Crystals and terrariums: a match made in Earth's very core! Conjuring images of an enchanting geological dance, the union of crystals and terrariums epitomizes the art of harmonizing the elemental with the exquisite. While terrarium translates to "receptacle of the earth", crystals find their genesis deep within our planet's womb, giving this partnership an inherent natural beauty.
The magnificent array of ways you can harness this beauty within your own home or office is what truly makes crafting a crystal terrarium an exciting endeavor. From brilliantly hued gemstones that punctuate the greenery of a planted terrarium to the quiet elegance of healing quartz in a minimalist setup, your crystal terrarium is a deeply personal expression of your style and energy.
So, come along on this journey of creativity and discovery. We promise that by the end of it, the enigma of the crystal terrarium will reveal itself, as clear as quartz!
Crystal Terrarium DIY: Unlocking Two Distinctive Approaches
Crystals, with their multifaceted brilliance and compelling structures, are a dynamic addition to any terrarium. They have an uncanny ability to draw the gaze and create unique points of interest within the terrarium, juxtaposing their rigid geometry against the soft lushness of terrarium plants.
Depending on the aesthetic you desire, you can follow one of two primary approaches to construct your crystal terrarium:
Incorporate Crystals Into a Planted Terrarium: Treat your crystals as you would any other hardscape material, using them to sculpt your miniature landscape, create focal points, and highlight key areas.
Craft a Crystal Garden in an Open Terrarium: For a simpler, more elegant setup, a crystal garden in an open terrarium showcases your hand-picked crystals as the stars of the show.
In the ensuing sections, we delve into each approach, ensuring you have all the information you need to embark on your crystal terrarium creation journey.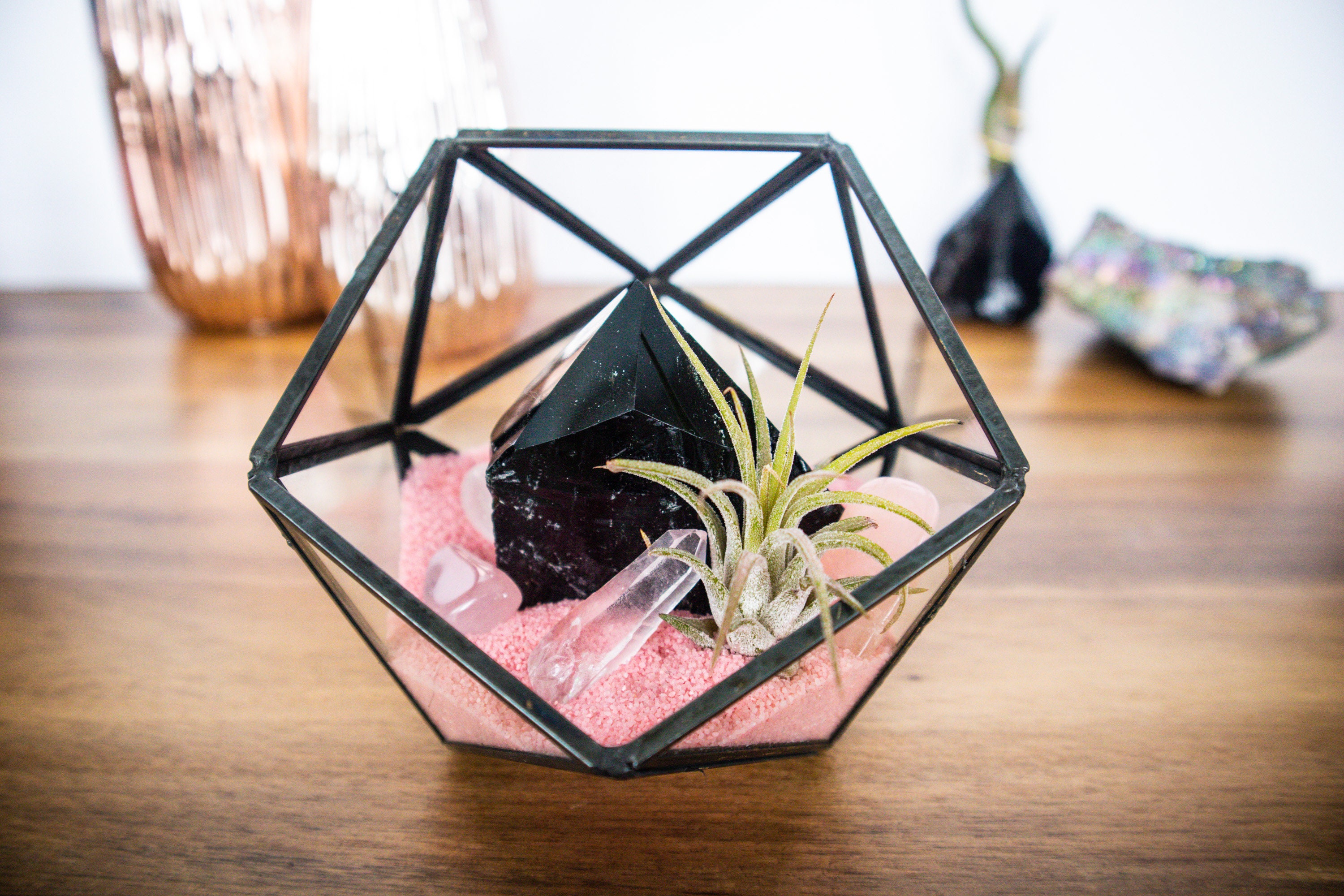 1. Plant Terrariums with Crystal Hardscape
Crystals are nature's art pieces, boasting a mind-boggling variety of shapes, sizes, and colors. Whether you're drawn to the compact clusters or the towering monoliths, your choice of crystal will play a key role in determining your terrarium's aesthetics and structure.
Before we explore how to incorporate different types of crystals into your terrarium, a word of caution: make sure the crystals you use are safe for your terrarium ecosystem. Avoid anything that may be harmful to plants and animals or chemically unstable.
If you're unsure, stick to quartz.
Quartz, beyond being affordable and beautifully diverse, is safe for terrarium use. Just steer clear of anything that looks unnaturally vibrant or glows in the dark. Now, let's delve into the types of crystals that you can feature in your plant terrarium.
Quartz Geodes: Resembling precious jewels encased in a rock shell, quartz geodes can be the perfect centerpiece for your terrarium. Use these geodes in the same way you would use a jagged piece of Dragon Stone – to create an illusion of cliffs and mountains.
"A hunk of quartz geode is sure to add some texture to a terrarium scene, creating cliffs and mountains, especially if they have the rock part of the geode left attached."
Amethyst Quartz: The purple amethyst, with its rugged surface, is a versatile classic. Although it might not be large enough to pose as a convincing mountain, you could leverage its unique shape to create a canyon or lake effect.
Quartz Shards: These don't replicate natural landscape features well, but they make up for it by adding unique features and dynamic shapes. Use them to break up areas that appear too soft or empty, or to create a focal point where a feature plant doesn't quite fit.
Gemstones: Tiny gemstones can serve multiple purposes in a terrarium. They can line pathways through your scene or act as a shoreline in a beach terrarium. You can even use them as a drainage layer!
2. Crystal Garden Terrariums
Taking a leaf from the tranquil serenity of a zen garden, crystal garden terrariums harmonize sand and crystals to create an elegant tabletop display. These terrariums may not house any living plants, but that doesn't diminish their allure. Your creativity is the only limit here!
A particularly enchanting variation of this design is a crystal air plant terrarium. The flowing tendrils and leaves of air plants provide an intriguing contrast to the rugged shapes of the crystals. You can use an item like a piece of sandblasted Grapewood to tie the entire look together.
"Anything you can find that you can mount plants or crystals to can elevate the look (literally and metaphorically)."
As for the base layer, opt for black or white sand to enhance the bright colors of the crystals, making them stand out.
While we've explored the idea of a geometric terrarium here, smaller designs can be adapted in a plethora of ways. Hanging terrariums, for instance, offer a delightful alternative to showcase your healing crystals. Plus, you can easily find crystal terrarium kits in the market to help you get started.
Crystal Terrarium Kits
Delving into the realm of crystal terrarium kits, you'll find they offer a simplified take on the DIY projects we've discussed above. These ready-made kits provide an effortless route to owning a crystal terrarium, especially for those who might be new to the terrarium-making world or those looking for a unique gift idea.
Typically, a crystal terrarium kit includes a small hanging globe or bowl, an air plant, a single crystal of your choice, and the basic gravel and terrarium materials you need to set it all up.
In opting for a crystal terrarium kit, you may sacrifice some level of personal customization, but the value you gain is considerable. Purchasing small quantities of individual materials can be a pricey endeavor, and that's if you can even find them. Therefore, a crystal terrarium kit may be the most efficient and cost-effective choice for many.
Plus, they make delightful gifts! Imagine the joy on a loved one's face when they unwrap a beautifully packaged crystal terrarium kit, ready for them to assemble and enjoy. The gift of a crystal terrarium is not just a tangible object, but an experience and a hobby that can bloom along with the terrarium itself.
Conclusion: Crystal Terrariums – A Symphony of Earth's Treasures
In closing, crafting a crystal terrarium, whether from scratch or using a crystal terrarium kit, is a uniquely satisfying endeavor. The creation process allows you to harness the beauty of terrarium crystals, paving the way for a breathtaking spectacle right within your living space or office.
Remember, whether you're designing a terrarium with crystals or creating a more specialized crystal garden, it's your personal style and creativity that will breathe life into these miniature ecosystems. Use the best crystals for plants to enrich the aesthetic appeal of your terrarium, creating a perfect harmony of natural elements.
And don't forget about the multitude of ways to display crystals in your terrarium! Whether you decide to create a sparkling pathway with gemstones or position a quartz monolith as your terrarium's centerpiece, each choice you make adds to the uniqueness of your terrarium.
Unquestionably, crystal terrariums can transform any space, bringing in a dash of Earth's magic. But their charm isn't limited to their visual appeal. They can also serve as thoughtful, memorable gifts that your loved ones can cherish. So, whether you're exploring what crystals are good for plants or how to create your own crystal terrarium, remember that the joy is as much in the journey as it is in the end result.
Thank you for joining us on this enlightening journey through the realm of crystal terrariums. We hope that you're feeling inspired and excited to start your own project. Happy crafting!